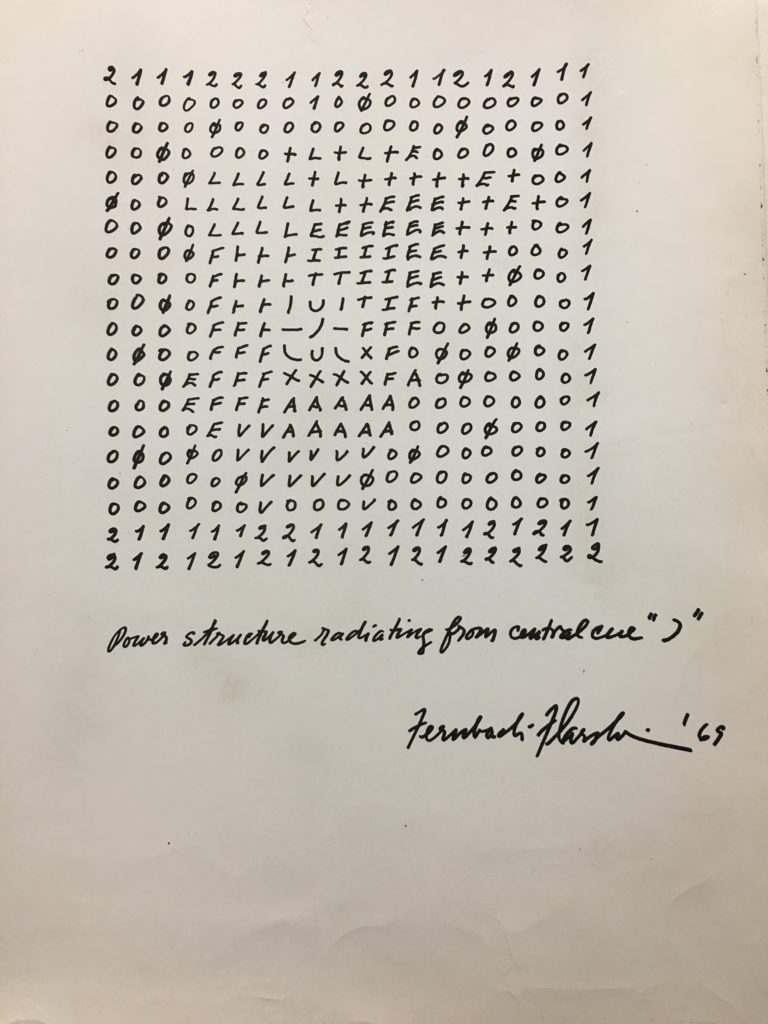 "We are surrounded by a causal reality, bordered by our concepts of birth and life. Inside this reality we stabilize ourselves by making decisions." – Carl Fernbach-Flarsheim [see: www.rhizome.org]
Carl Fernbach-Flarsheim developed and created a software program in FORTRAN and the matrix that resulted, built upon this supposition.
Carl never stopped his quest, in 1971 he moved with his family to New Mexico to study and fine-tune this concept, viewing his surroundings as a series of phenomena, employing sounds as guideposts he formed the imagery that he produced. His final opus that he coined "The Third Artist" would describe and be the basis of his latter artwork and writings in support of this understanding. A new approach to The Boolean Image, imagery based in sound, movement and beautiful color.
In this, he applied those same concepts in how he would come to view himself and went under the name "HiKaLu" as a result. His wife Sara, also followed this and referred to herself as "Sarai." Living in Santa Fe, New Mexico, they lived their lives under their "sage" names (see article: FINDING HIS SPIRITUAL DIRECTION By Melissa Adams THE NEW MEXICAN 12/21/1987).
UBU Web writes about Concrete Poetry:
"Although a few isolated poets have been making concrete poems for some time, it would be an exaggeration to speak of a concrete poetry movement in the United States. The American concrete poet finds himself in the strange position of being associated with a new formal movement whose origins are foreign and many of whose foundation stones were laid by e. e. cummings and Ezra Pound." [see: www.ubu.com/papers/solt/us.html]
The Philadelphia Years: 1966-1968
During 1964 through 1968 Carl Fernbach-Flarsheim was actively showing his art work and taught at Tyler School of Art at Temple University.  Arie A. Galles writes "My teacher and friend, Carl Fernbach-Flarsheim, was my guide and profound influence (see: www.ariegalles.com/tyler-temple.html)."  For more information please see Google link page.
Special thanks to Sid Sachs "Invisible City" 'Invisible City,' Philadelphia's bustling experimental art scene, 1956-76: Carl Fernbach-Flarsheim 1966 The Arts In Fusion
Accomplished Works (Online):
PROGRAMS WITH CARL FERNBACH-FLARSHEIM link: http://renaissancesociety.org/exhibitions/artist/1352/carl-fernbach-flarsheim/