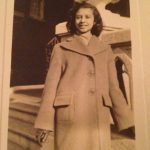 Born in New York City 1930 to David and Victoria Saporta, who manufactured clothing.  She grew up in Manhattan.  She had one sibling, Jack Saporta who is now retired in Illinois.  After graduating from college she started her career, then married to Carl Fernbach-Flarsheim in 1960 and devoted her energy to raising her children, then later, in 1971, moved to New Mexico with her family and became an Acupuncturist later returned to her first love painting and writing.  She appeared briefly at Concepts Gallery on Canyon Road in Santa Fe NM.
Her artwork in what could be termed expressionistic followed her philosophical beliefs.  The elements of expressionism had to defend itself to her style and transformed into a whole new realm of art imitates sound and vibration. She eventually moved to Sedro Woolley, WA, where she died at age 65.
Books where her works can be found:
A Documentary HerStory of Women Artists in Revolution: Compilation of documents – newspaper articles, editorials, correspondences between museum officials, flyers, writings, and manifestos – by Women Artists in Revolution (W.A.R.) from 1969 to 1971.