New Mexico Department of Health – My Miracle Girl
Kathy and Alexandra's Story: "My Miracle Girl!"
By Dave Farbrook
1/19/07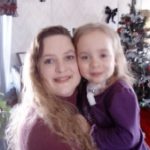 When I first interviewed Kathy and her three-year-old daughter, Alexandra, in December 2005, I found a little girl with a beautiful smile inviting me to color some pages out of her coloring book with her. Kathy explained how in the beginning she "cried a lot during those early months, because they were so difficult!" Alexandra was born prematurely, weighing only 2 pounds and 8 ounces and was 14-1/4 inches long. She spent about 6 months of her life in the hospital due to complications of premature birth.
Kathy praises the New Vistas service provider, funded through the programs of the Developmental Disabilities Supports Division. "Alexandra would not be as far along as she is today if it were not for New Vistas and all the loving guidance we received."
Kathy said that "as a parent, there are things I just didn't think could happen during my pregnancy." With the assistance of New Vistas' staff, Kathy learned how to care for her daughter's needs when she brought her home from the hospital. Because Alexandra could not talk at first, New Vistas' staff also taught both of them how to sign so that they could understand one another.

In December 2006, I spoke to Kathy again and she told me that Alexandra is going to be four in January. Alexandra is now 3'-3" tall and weighs 35 pounds, is talking up a storm and is in pre-school two days a week. "We found a wonderful school and Alexandra made lots of friends and although she still knows how to sign, she mostly uses her voice and doesn't use a whole lot of sign language, anymore."
Alexandra loves to draw. She is fascinated with anything that is artistic – painting, drawing and coloring. She writes some of her letters, and all of her Christmas cards have her "A" written on them this year.  She likes to play with the computer and loves to sing. She knows a lot of songs by heart including "Rudolf the Red Nosed Reindeer" and the song "Tomorrow" from the musical "Annie."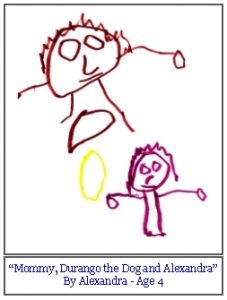 She sings both at home and at school. At school she is learning two songs, "the Ugly Duckling" and "Thumbelina," for a play she is involved. Her mom calls her "My Miracle Girl."
Kathy was concerned about how Alexandra would transition out of early intervention when Alexandra turned 3 but Kathy found that New Vistas helped her through it, and for the time being, she feels that her daughter "is healthy, happy and doing fantastic."